In February I went in for a physical exam, blood test, and all that jazz. We had switched insurance and since we pay so much, I might as well take advantage of actual health professionals.
Well, I tested – and they called to say I had diabetes with an A1C of 7. I said, "Nope, unacceptable. I demand a recount."
So two weeks later, I retested. I still had an A1C of 7 and my fasting glucose was in the prediabetic range. It was the 7 that flagged it, and then the dominoes started to fall. The medical office and my doctor called and told me to get it down with diet and exercise. My doctor gave me the usual spiel; it was similar to what I received from the dietitian when I had gestational diabetes.
Lower carbs as fast as possible
Limit sugar
Proteins
Some fat
Exercise (ugh)
After having gestational diabetes, I donated my Accu-Check glucometer and its accessories. I never wanted to see it again.
Then Type 2 said "Hold my beer."
My friend and registered dietitian nutritionist Melissa Burton came to the rescue and offered to help give some guidance and be a soundboard. One of the things I didn't bring up when I had GD was that my meal plan then was culturally insensitive. It didn't even consider my being Chinese American. It just wanted me to eat salads and chicken breasts. I am much more aware of this big blind spot, now that I'm assigned diabetes education classes.
So I'll be checking in with Melissa on ideas to incorporate my culture (Angeleno, Chinese, American) into my diet.
This is my new glucometer, the One Touch Verio Flex. I'll tell you that over the course of the week, I've already wasted a bunch of lancets and testing strips because I didn't poke deep enough. It's almost like riding a bike except you're stabbing yourself.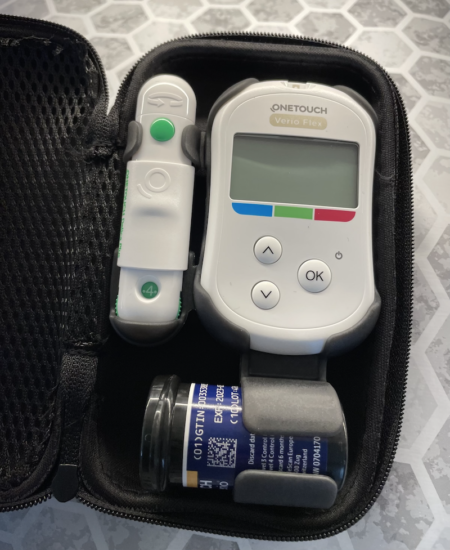 I decided to resurrect this blog to share my journey in food frustration (that's a given), blood sugar scores, bleeding fingers, and what has worked for me.
I know that my last blog post about gestational diabetes and protein snacks was a hit, and hopefully those who were surprised by their diagnosis of Type 2 will also find some inspo here. We know we are not alone in this battle of blood sugar and insulin.
Happy to be back blogging even if it's about a disease.